Keep That Baby Safe! National Baby Safety Month
September 12, 2023
September is National Baby Safety Month! Celebrate baby safety with these helpful tips for creating a safe living space.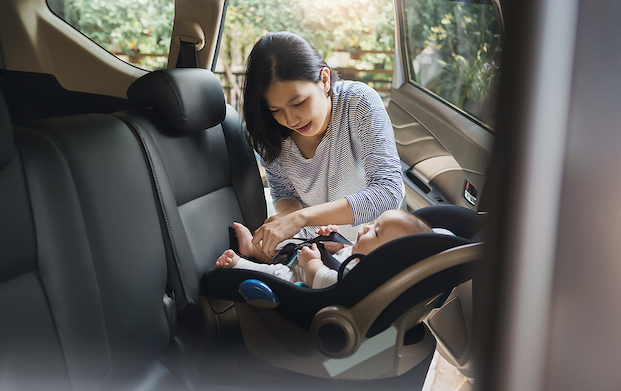 September is National Baby Safety Month. At this time of year, the Juvenile Products Manufacturers Association (JPMA) publishes information for parents about baby safety around the house.
While it's impossible to protect your child from all potential injuries, you can dramatically reduce your child's chances of injury. Knowing how household injuries occur is the first step to protecting your child. Once you're aware of the potential for danger, you can take steps to reduce household hazards and keep your baby safe.
Baby Proof Your Home
From cleaning products to fireplaces, your house is probably full of hazards that can lead to injury. There's an opportunity for baby-proofing in every room of the house. Baby-proof your home before your baby starts to crawl, so your house will be ready when your baby is. This is not a comprehensive list, but a few things to include:
Place baby-proofing locks on all cabinets and drawers your baby can reach
Put up baby gates to your bathrooms or baby-proof the hazards in the bathrooms individually (toilet, cabinets, bathtub faucet, etc.)
Place covers on unused outlets
Put up a baby gate to hazardous areas like staircases, the laundry or utility room, the kitchen, the home office, and the bedrooms of anyone who has not babyproofed their room.
There are a variety of baby-proofing checklists online. These checklists can be beneficial, as many adults do not think like babies or toddlers and should be informed of the many hazards that babies can get into around the house.
Focus on Safe Sleeping
Experts recommend that babies sleep on their backs, on a firm surface, in their own sleep space, or in a room with their parents. These safe sleeping recommendations and others help reduce the chance of SIDS (sudden infant death syndrome).
Register Your Baby Products
Many companies provide parents with the opportunity to register baby products they purchase. If there is a product safety recall, registrations give the company the means to reach out and alert the parent. You can also learn more about which products are safe and which ones are not on the website for the Consumer Product Safety Commission (CPSC).
Practice Safe Bath Time
Never leave your baby alone in the bath – not even for a few seconds. Babies cannot be trusted to sit up or lounge safely in the bathtub, and they can drown in as little as one inch of water.
Also, turn down your water heater to a temperature below 120 degrees Fahrenheit to avoid potential burns and scalds. Remember that even if you plan to check the temperature of your child's bath water every time you fill the tub, accidents can happen, and toddlers can sometimes reach faucet handles to turn on the hot water themselves.
Car Seats
Read all safety instructions for a safe car seat installation. If you're having trouble, the company you purchased the car seat from may have posted an official video tutorial on installing your car seat. Many police departments will also show new parents how to install a car seat – call your local police department for information.
One more thing: did you know that car seats expire? They do. If you're using a car seat from a previous child, know when the expiration date is and replace the car seat if necessary.
Check With Your Child's Doctor
Many pediatricians provide information about baby safety when asked. For more information specific to your baby, talk to your child's doctor to find out what you can do to keep your baby safe at home.